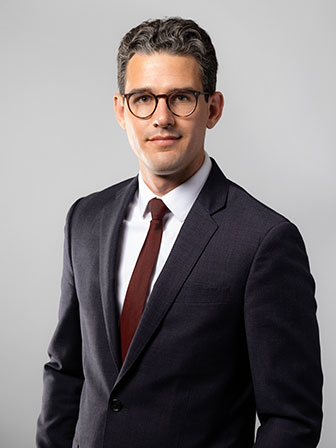 May 19, 2023
Schlam Stone & Dolan LLP is pleased to announce that Channing Turner has been elevated to Counsel of the firm.
Managing Partner Jeffrey M. Eilender said, "We are thrilled to welcome Channing to our Counsel ranks. Channing is a formidable litigator, with an enviable range and skill set. As Counsel, Channing will continue to provide extraordinary client service for the most challenging litigations."
Channing focuses his practice on complex civil litigation, arbitration, white collar, and financial regulatory compliance and investigations. He has tried several high-stakes matters in both federal and state courts, as well as AAA, FINRA, and reinsurance arbitration venues. Channing has also obtained success for clients outside the courtroom, including negotiating the favorable settlement of a construction dispute on behalf of an international clothing brand that recently opened its flagship U.S. retail store. In addition, Channing has developed a practice representing witnesses during investigations by the U.S. Attorney's Office for the Southern District of New York and the New York State Attorney General, as well as assisting individuals in prosecuting whistleblower complaints, which alert authorities to misconduct, with the U.S. Securities and Exchange Commission (SEC).
Best Lawyers designated Channing in its 2021 "Ones to Watch" list of attorneys with outstanding professional experience.
Before joining Schlam Stone & Dolan, Channing practiced at Wilmer Cutler Pickering Hale & Dorr, LLP and clerked for the Hon. William B. Shubb of the U.S. District Court for the Eastern District of California. Channing received his law degree from The University of Chicago, where he served as an editor of the Law Review. He simultaneously earned a B.A. and M.A., both summa cum laude, from Arizona State University.