Posted: October 21, 2013 / Categories Commercial, Interviews
Ten Questions for Justice Warshawsky
In an effort to foster communication between the Commercial Division bench and bar, from time to time we will be posting interviews with sitting or retired Commercial Division justices and court staff. Retired Nassau County Commercial Division Justice Ira B. Warshawsky has graciously agreed to serve as our inaugural interviewee from his new home at Meyer Suozzi English & Klein, P.C.'s Litigation and Alternative Dispute Resolution Practice.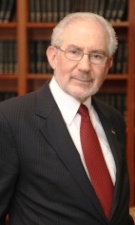 Before retiring, Justice Warshawsky served as a Supreme Court Justice for fourteen years, the last ten of which were in the Commercial Division. In addition to his judicial duties, Justice Warshawsky has served as a director of the Nassau Bar, is the former Dean of the Nassau Academy of Law, is a frequent lecturer for the National Institute of Trial Advocacy, has served as a contributing editor of the Benchbook for New York Trial Judges, was the past-President and charter member of the American College of Business Court Judges, and is a member of the Advisory Board of the Sedona Conference.
With deep appreciation to the Justice, here are ten questions for Justice Warshawsky:
Q1. What were your most favorite and least favorite aspects of being a Commercial Division Judge?
Perhaps my most favorite aspect of being a Commercial Division judge was that I was always learning; learning about new businesses in different areas of commerce. From running a profitable nursery school, to running a summer camp, importing lumber from Brazil, ground water pollution class actions, funding of major business transactions, the pitfalls of construction – from single-family homes to major individual and residential construction projects. Of course there were so many different things in between; being in on the early days of ESI, its expanding costs and the opportunity to become part of the Sedona Conference. As well as being a Business Court Representative to the ABA's Business Section which introduced me to a whole new area of litigation throughout the country and appearances on panels at ABA and Business Section meetings in cities across the country and Canada. It was also special to being a founding member of the American College of Business Court Judges (ACBCJ).

Speaking of lawyers – the level of lawyering in the Commercial Division was very high. I learned from the lawyers, they raised the level of my game.

A least favorite aspect? As time passes, I may be viewing the past through rose-colored glasses. It's difficult to name one. Perhaps it was the intransigence of some lawyers to accept the possibility of mediation as a resolution of their issues. Mediation is an inevitable solution to the overwhelming majority of cases pending in today's court system, commercial, personal injury, medical, you name it – they all will benefit from mediation services.

The growing reduction in staff support due to budget cuts is also problematic. We had a very good system. Cases moved quickly – Now, so I am told, the time gap from a Note of Issue to trial is not 6-9 months but 1-2 years. We have gone backwards.
Q2. What are your opinions of the recommendations that were contained in the Chief Judge's Task Force on Commercial Litigation in the 21st Century, and how would you assess the progress that has been made in implementing the task force's recommendations since they were first published in June 2012?
It is difficult to be critical of the report. It reduces the cases that could gain access to the Commercial Division (at least in NY County) by raising the threshold. (No budget impact.)

It provides much needed support to the Commercial Division judges in the form of additional law clerks and rehiring J.H.O.s as well as setting up a new tier of Court of Claims. Such a law clerk position does or did exist in NY County. It should be continued and expanded to other Commercial Division Courts outside of NY County where caseloads call for it. –(Not realistic due to budgetary issues).

An additional idea was creating a corp of special masters. It would be "manned" by seasoned commercial litigators who are no longer in active practice upon the consent and expense of the parties.

This is a "No budget impact idea," which I support. However, retired Commercial Division judges, be they currently in practice or not, should be included in this special master cadre. Who better than a retired Commercial Division Judge is most suitable to be a Special Master? (I admit a degree of bias on that point.). Currently I have been appointed to be a special master in a business valuation matter in Suffolk County.

The report suggests bringing back retired judges as JHOs. As noted above, why shouldn't they also be special masters and be compensated by the parties rather than by the state? (No Budget Impact).

Let us be blunt about it – A special master private practitioner will make more an hour than the JHO makes in a day, and in the end the parties will be paying, not the state.

In those situation where "affordable" is the issue then a JHO would be assigned.

The suggestion of an Institute on Complex Litigation is an excellent idea. There is no suggestion of how much such program will cost (Budgetary Impact Unknown).

A final recommendation I would like to comment on is the one on expert disclosure. More specifically to allow for identification of expert witnesses, exchange of reports and deposition of expert witnesses; all to be made four months of the end of discovery (fact).

I would strongly support such a recommendation. For far too many year the personal injury plaintiffs' bar has controlled expert disclosure in New York. They definitely can prevent the passage of any change in the CPLR, so the only way around this is a change in the rules.

As far as implementation of these change, no longer being in the system I am unaware what if anything has been done. (Budget issues).

I am aware however, that the Nassau County Commercial Division has instituted a voluntary pilot project which mirrors the Federal Rules to some extent in the production of expert reports and taking their deposition. It was sanctioned by the OCA, and was put into effect while I was still on the bench in 2011. This was all as a result of the work of the Nassau County Bar Association's Commercial Litigation Committee. It recognized the problem and realized if we didn't try to do something no one would. It is also an example of bar association-court cooperation. Kudos to past chair. Michael Cardello and current chair, Kevin Schlosser.

The suggestion to unify certain forms is a good one and would be a low impact on the budget. However it requires buy-in by all concerned and when two Nassau County judges tried this some years ago many of the independent members of the Commercial Division rejected it.

There are a variety of other suggestions in the report including technology upgrades to court rooms which I completely support.

The modification of the number and scope of document demands and interrogatories and limiting the number and duration of depositions is somewhat more of a concern and the Nassau Preliminary Conference order already does some of that.

I do believe the current Federal Rules on depositions are a useful guideline and the task force appears to recommend them. It is interesting to note that there are now new amendments to the Federal Rules which will reduce the time of deposition and the number thereof.
Q3. What are the three most important suggestions you have for attorneys concerning how they can improve their written work product filed with the Commercial Division?
Three most important suggestions on improving written work product?

In no order of importance:

Don't string cite. When citing, a brief explanation of the relevancy of the cited case to the point you have made (or are trying to make) might be helpful. Don't pretend to be Hemmingway or Faulkner. Shorter sentences bring home your point better than lengthier ones. The reader should not have to re-read the sentence to find out where it started and eliminate parenthetical clauses to understand what you are saying. You are not writing the next great American novel.

Don't assume the judge knows all about your clients type of business.

I always appreciated learning about the business so that the facts of the case may be placed into context. Of course that was just me - others may not care.

If you don't have court-mandated style requirements, stylistically speaking a slightly large font, slightly wider margins and perhaps a bigger line spacing will make your papers jump out more than your adversaries'.
Q4. Similarly, what are the three most important pieces of advice you have for attorneys concerning how they can improve their performance at oral argument?
At oral argument, usually accompanying a motion, know the judge. Is it a hot bench?

Does this judge have a reputation of having read your papers?

If so, then don't spend/waste time on repeating everything. Cut through the written argument and hone in on the two-three issues that are key to your argument.

If you are lucky enough to have an adversary that has misused a case, bring that to the court's attention as nicely and as quickly as possible.

Humor and sarcasm work for some. Be careful how you use it and don't try to be more humorous than the judge.
Q5. Identify the one state or federal court judge, living or dead, whom you admire the most and explain why.
I really can't give you just one.

I haven't worked before another judge at least until my retirement, for nearly 40 years, so my admiration of any judge is based on personal contact, not real world, in the pit. I have always admired Judge Arthur Spatt. His well-known work ethic and erudite decisions are examples to be followed by many.

My old friend, Magistrate Judge Michael Orenstein, now retired, had an encyclopedic knowledge of criminal and civil law and the only person who I actually went to for advice in my pre-judicial career.

I know you said to pick only one – but because of my abiding interest in ESI, I admired the judicial work product of Judge Shira Scheindlin. Her clear ground-breaking decisions in this area for over ten years have provided guidance to lawyers and judges in a very complex area. You may not always agree with her but she provides reasoned decisions for what she has done which you may or may not wish to follow.
Q6. You were regularly in the market for recent law school graduates seeking to be hired as law clerks, and review on a daily basis the work of people who graduated from one law school or another. In what ways should the nation's system of legal education be reformed and/or improved?
Reformed or improved?

I am not, nor do I claim to be knowledgeable of how to run a law school. A curriculum that is good for today may not be for the graduate of ten years from today.

I know that an Alternative Dispute Resolution ("ADR") course is offered at most law schools. It should be mandated. ADR is no longer a tangent to litigation, it is an essential part of it.

I know that some law schools have as an elective, a course in Electronic Discovery. Others teach it within their Evidence course. It should be mandated.

I have encountered too many interns or recent graduates that never heard of Zubulake or can tell me what the letters ESI mean or heaven forbid, "metadata." I do not expect an understanding of T.A.R. (Technology Assisted Review ). I barely understand it myself, but knowledge of the basics of ESI cannot be optional. I do not expect much from senior lawyers but they depend on their younger colleagues to keep abreast of the changes in technology. The ABA model rules now expect no less.

The law schools have a duty to prepare their graduates to meet these requirements.
Q7. How did you make use of your judicial law clerks, what qualities did you look for in deciding whom to hire as a law clerk, and are there any sorts of candidates whom you wish were applying but haven't been?
When you say law clerk I think interns. You're probably thinking Federal court where they are hiring every two years. I only hired two law secretaries in my career, the first had come from the County Attorney's office before she was a law secretary for another judge. She was excellent. When she retired I hired a gentleman with extensive experience in property law. He as well was a superb addition to chambers. Not because of his knowledge of property law but because he was an experienced lawyer who knew how to find answers and deal with people. A friend of mine once said that when looking for a new associate he does not look for an expert in a particular area. Rather he looks for the "best athlete", and I don't mean the one who will be the star on your law firm softball team. I believe that is a good way to look at it.

I have had many law interns (no compensation) during my 25 years on the bench. Many have gone on to successful careers in diverse areas of law.

My "law clerks/interns" have been from local and national law schools.

They observed everything that occurred in chambers, they were assigned real work in writing draft motion decisions and Memorandums of Law.

What I looked for was a person who wanted to be a sponge, learning from my two excellent law secretaries and myself, and not just to make me one more line on their resume.

I regret that top tier law school students frequently choose not to look to a state court but elsewhere for that summer internship after their 1L year. Rather they look to that really big firm where they actually get paid to show up. I wish that I had had funds to give stipends to my interns.
At times I did combo internships with law firms where the student worked both for the firm 2-3 days a week and with me 2-3 days a week. That way they could at least put gas in the tank.
Q8. Appellate Division Justice David Saxe recently proposed that a special group of First Department Judges be tapped to create a Commercial Law panel within the First Department that would exclusively hear appeals from the Commercial Division. What do you think of this proposal?
Some years ago before there was a Commercial Division, there were dedicated matrimonial parts. I was then first of a group of Dedicated Matrimonial Part Judges in Nassau County. No one clamored to take our positions and gleefully contributed cases to our calendars. Time passed, one or two judges seemed to be getting most of the med-mal cases. There were arguments that such cases should be equally spread amongst all justices. We were all elected as JSCs to do the same things.

When the Commercial Division parts were created, no one requested to sit in those parts. The work load was already known to be notoriously heavy and complex.

Justice Saxe is not the first to make such a suggestion, but the others were done quietly, by attorneys.

If the "powers that be" believe that special commercial law panels will produce more reasoned decisions with a greater understanding of the nuances of the complex legal issues on appeal, then they will create such panels.

If there will not be a greater likelihood of such a result, they should let things be.

No judge comes to the bench "all knowing" in all areas of law. We learn from the cases we try, from the lawyers who practice before us. It is for appellate counsel to educate, when needed, the justices before whom they appear.

Should there be a special panel for election law cases? For Family Law or divorce cases? I think not. Will someone dare say that the complexity of matrimonial law is less complex than commercial law? I doubt it.

With that said, we probably are better off with dedicated Commercial Panels.

But we are far better off with an educated bench who will understand the commercial cases argued before them.
Q9. How has the transition been from the bench to private practice involving ADR?
I would say that the transition from bench to bar involving ADR has moved well. During my career on the bench, the type of case that cried out for mediation more than others was the construction case. It would typically have many moving parts, multiple defendants and, on occasion, second and third party plaintiffs.

In my first year off the bench, the majority of my cases were construction matters while handling some litigation matters. Now I have joined with NAM, while remaining at Meyer, Suozzi, English & Klein, P.C.

Those construction cases are still the most difficult. However, more cases, construction as well as others, are finding their way to mediation and arbitration through their insurance carriers, pre-litigation. Pure economics.
Q10. What do you do for enjoyment and/or relaxation in your spare time?
I like to play at golf and read. Whether golf is actually enjoyment and/or relaxation is questionable.

I limit myself to nine holes and hope that I hit one shot or make one long putt that brings me back another day. Actually making short putts isn't such a bad day, either.

As to reading, I prefer fiction, adventure, science fiction or even fictional law.

I have jumped into the electronic world of e-reading with my kindle, also available on my phone and tablet.

I do keep a copy of "Getting to Yes" on my e-readers. Someday I may finish it.